The Aicci WL1 400 wall lamp is an elegant, minimalist expression of comfort. Its signature design is characterised by the entire length of lamp two-way soft light that draws the eye and provides comfort for the full spectrum of activities, answering the demands of today's in various uses.
The lamp timeless Nordic design and robust light source protecting the steel body, making it a sustainable choice.
The Aicci WL1 is available in optional lighting controls: touch switch with on/off and dimming functions and with an advanced Casambi lighting control, as well as without the built-in control function.
The Aicci WL1 can be fitted vertically or horisontally to the wall or mirror cabinet. The screw fastening optionally from a back or side of the light. The Aicci WL1 lamps range lengths at 400, 600 and 900 mm.
Variations and technical specifications
Friendly two-way light
Robust steel body
LEDs of professional quality
Openable for easy maintenance
Recyclable materials
Designed and made in Muurame, Finland by Aicci.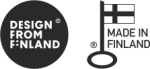 Contact us about this item info@aicci.fi.